St. Christopher School is a community rooted in Catholic values, service and academic excellence.
The curriculum summary below is provided as an insight into what will be taught in the primary, intermediate and middle school grades.
Our primary students, kindergarten through third grade, are taught their academic subjects by their homeroom teachers.  Once a week students attend special classes, which include art, computer, library, music, physical education and tech lab.  Our second graders prepare for the sacraments of Reconciliation and Eucharist through religious instruction and service projects.  The primary curriculum encourages students to become responsible individuals by learning how to think critically and problem solve through hands on activities in order to become responsible citizens.  The English and reading lessons in the primary grades focus on developing an interest in literary and informational text. Math concepts are taught with hands on lessons and activities based on real world applications.  Technology resources, such as chromebooks, are utilized to develop independent learning skills, especially self-management and collaboration skills. 
The intermediate students switch classes to attain academic instruction from highly qualified teachers in each subject area.  Students also receive instruction in art, computers, music, physical education and Spanish. The intermediate curriculum fosters an atmosphere of exploration and investigation.  Technology is woven into all subject content to motivate and increase student lead instruction in order to encourage active participation in the learning process. Learning in the intermediate grades promotes diversity.  Students learn at their own speed, review difficult concepts or skip ahead if they need to to optimize instructional time throughout the school day. The language arts curriculum focuses on evaluating literature and informational text to make informed decisions.  The mathematical curriculum at Saint Christopher is based on the individual needs of the students. Specific content is taught through challenging and innovative activities based on the inquiry process, facts and skills developed into conceptual understanding. Science units focus on STREAM concepts.  Students are given the opportunity to investigate and apply science topics in the school science lab through experiments that incorporate critical thinking and problem solving skills. Social studies lessons allow students to learn from the past and make informed decisions to strengthen the future.
Students at the middle school, sixth through eighth, have a variety of teachers that ensure a greater level of expertise and understanding of curriculum content.  Students are more invested in their learning since their classes have a greater ability to differentiate based on the instructional needs of all learners. At the middle school level students learning in student lead and students are expected to work collaboratively to advance learning skills in all content areas.  Students are typically learning math concepts a grade level above the Ohio standards. The science curriculum incorporates hands-on experiments and online virtual labs for students to apply the scientific method and engineering process in real world situations. The language arts program fosters analytical thinking, interpretation of informational text and comprehensive strategies.  The social studies curriculum at this level provides lessons that promote creativity and the ability to solve authentic and complex problems. The goal of the social studies curriculum is to give students opportunities to be responsible and independent citizens able to make decisions based on their faith and understanding of global differences.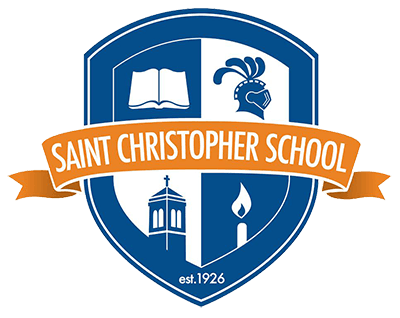 STREAM Program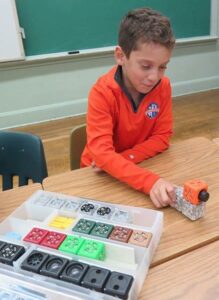 St. Christopher School is transitioning into a STREAM school. STREAM (Science, Technology, Religion, Engineering, Arts, and Math) schools seek to integrate Catholic identity into every aspect of the curriculum while providing a challenging learning environment focused on science, technology, math and the arts. STREAM schools promote a culture of innovation, as well as a commitment ethical behavior and social justice. STREAM education is another tool to help develop students that are prepared to lead, succeed, and serve; while giving witness to their Catholic faith.
Art Program
The school has a large, dedicated use art room. Students in grades K-8 receive one hour of art instruction a week, by a certified art teacher. In addition to creating thematic works in a variety of mediums, students are also exposed to both art theory and appreciation.  The students' work is show cased at our annual art show which takes place on the last Sunday in January in conjunction with our Open House.
Music Program
The music program at St. Christopher School is offered to students in Kindergarten through Eighth grade. Students focus on music reading skills, vocal technique and musical instrument exploration. Our fourth grade classes learn to play the recorder.  Starting in seventh grade the students learn to play the ukulele and continue to play through eighth grade. Twice a year, at Christmas and in the Spring, our students entertain the school community with performances.
Foreign Language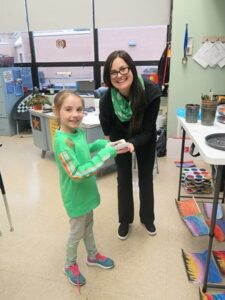 Students in grades 4-8 take a Spanish class, the number of classes per week vary by grade level. Vocabulary acquisition, correct pronunciation, grammar, and sentence structure are taught. Middle school students should leave the school with the equivalent skills of a Spanish 1 student. Students also explore Spanish and Latin American culture and geography.
Library
Students in grades K-3 spend 40 minutes per week in the library. Students are taught library usage skills, participate in read-aloud activities, can withdraw books, engage in research, or simply read for pleasure. Students in grades 4-8 have access to the library and can take books out to read at their leisure.
Computer Learning Center
Students in grades K-8 have computer class at least once per week. Students are taught key boarding and other computer usage skills, including the use of Google Apps and Microsoft Office. Internet safety practices in addition to responsible and ethical computer use are also emphasized. Students also have the opportunity to learn coding skills and participate in coding competitions.  All K-3 students are in computer center one additional session per week, using a variety of web-based programs, for skill practice, remediation or enrichment.