Mrs. Kimberly Schwartz
6-8 GRADE ENGLISH TEACHER/4-8 GRADE INSTRUCTIONAL COACH
Mrs. Schwartz feels blessed to be a part of St. Christopher School. She graduated from Cleveland State University and has her professional license in Elementary 1-8, but she has taught ELA for  30+ years. Mrs. Schwartz has previously taught at St. Vincent de Paul Elyria and Puritas Community Middle School. She also currently teaches in the Reaching Magis program at St. Ignatius High School.
Mrs. Schwartz and her husband Chuck are lifelong residents of the West Park area and have three children – Addie, Andrew, and Alex. She attended St. Patrick's grade school and St. Joseph Academy. In her free time, Mrs. Schwartz loves to read, garden, crochet, and walk her dog.
Miss Julie Dzurec
EIGHTH GRADE HOMEROOM/ 6-8 GRADE SOCIAL STUDIES TEACHER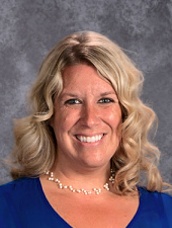 In addition to eighth grade homeroom subjects, Miss Dzurec teaches social studies to grades six, seven, and eight at St. Christopher School. She received her bachelor degree from John Carroll University with a double major in History and Secondary Education. She especially enjoys helping her students "connect" with history.
Prior to joining the St. Christopher School faculty, Miss Dzurec tutored students at Maple Heights High School in preparation for their Ohio Graduation Tests. Miss Dzurec grew up in Fairview Park and now resides in Rocky River. In her free time she enjoys travelling, reading, and playing volleyball.