Miss Kristin Dudas
SEVENTH GRADE TEACHER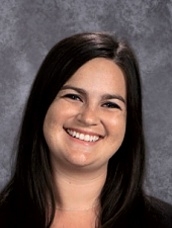 I am very excited to be part of Saint Christopher School! I attended John Carroll University in 2013, where I majored in education with a focus in mathematics and science in grades four to nine. Math has always been a true passion of mine and I want to show the students how the concepts we go over apply to their everyday lives. I have worked with many students who have struggled with math and have helped them master many concepts. I feel a great sense of accomplishment when I assist children to understand some of the challenging math concepts presented to them. I am looking forward to getting to know the students better and to help them enjoy learning.
I attended Our Lady of Angels elementary school and Saint Joseph Academy high school. I am the oldest of four children. I also have a Teacup Maltese named Milo who I love to spend time with! In my spare time I love listening to music, going out to dinner, and reading.
kdudas@scsrr.org
440-331-3075
Miss Hagan Duns
SEVENTH GRADE TEACHER
Miss Duns attended John Carroll University and graduated with a Bachelor of Arts in History. She later attended Baldwin Wallace University and completed the teaching licensure for middle school language arts and social studies. She hopes to instill a love for literature in the students of St. Christopher! 
Miss Duns attended St. Brendan School in North Olmsted and Magnificat High School in Rocky River. In her free time, she enjoys cheering on her niece at her Irish dance competitions and discovering new books to read!
hduns@scsrr.org
440-331-3075