Mr. Tom Thorne
SEVENTH GRADE HOMEROOM/ 6-8 GRADE SCIENCE TEACHER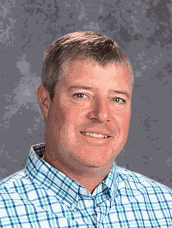 An avid outdoorsman who loves fishing and nature, Tom Thorne, is our middle school science teacher, naturally gravitated toward a career in science. He holds a Bachelor of Science in Conservation from Kent State University and is licensed to teach Integrated Science (all sciences) for Grades 7-12.
Prior to joining St. Christopher School, his teaching experience included six years as a workshop instructor and Teaching Associate at The Ohio State University's Franze Theodore Stone Laboratory on Gilbraltar Island in Lake Erie, and nine years teaching junior high science at Saint Ignatius of Antioch. Tom also taught Human Anatomy and Physiology, Environmental Science and Health at Cleveland Central Catholic High School.
Born and raised in West Park, he and his wife Binh To-Thorne (who he met in a chemistry lab at Kent State) reside in West Park.
"It's exciting to teach at such a high achieving school in a great community," says Thorne. "I always look forward to building on the students' problem-solving skills and increasing the students' inquiry in all fields of science."